Did You Know?
Approximately half of all patients diagnosed with cardiomyopathy in the U.S. have some type of genetic cause, while only about one percent of cardiomyopathy patients get genetic testing for their cardiomyopathy. Truncating variants in the TTN (titin) gene are the most common cause of inherited cardiomyopathy.
The Genetic Cardiomyopathy Awareness Campaign was launched in the U.S. in early 2023 by eight U.S.-based cardiomyopathy patient groups to raise awareness about the need for genetic testing for cardiomyopathy patients and family members.
The purpose of this campaign is to raise awareness and to get more cardiomyopathy patients and family members genetically tested, which will help save lives and advance genetic research and therapies.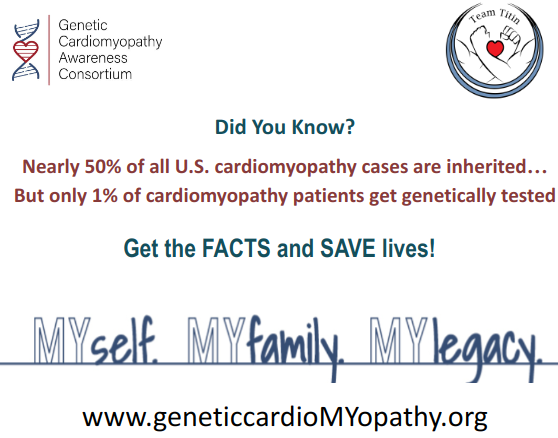 Please visit www.geneticcardioMYopathy.org to lean more.