Team Titin, Inc. is a nonprofit corporation. Our mission is to support individuals, families, and their healthcare providers, and serve as a catalyst for academic and industry research to develop a better understanding of Titin-related disorders.
Changes in the TTN (titin) gene cause a spectrum of muscle and heart disorders that range from rare to common and can have a negative impact on health and quality of life. Team Titin supports the spectrum of disorders caused by changes in the TTN (titin) gene.
Titin and the heart:
Titin-related heart conditions are the most common genetic cause of a heart condition called dilated cardiomyopathy. While estimates vary, as many as 1 of 500 adults may have this condition.(1)
Titin and skeletal muscles:
Additionally, changes in the TTN gene can cause a wide spectrum of rare muscle disorders called "Titinopathy". These disorders may be also called a "myopathy" or a "dystrophy" including limb-girdle muscular dystrophy (LGMD) and tibial muscular dystrophy. We support all titin-related subtypes including:
Centronuclear myopathy
Multi-minicore myopathy
Hereditary Myopathy with Early Respiratory Failure (HMERF)
Early-onset myopathy with fatal cardiomyopathy (EOMFC) also known as Salih myopathy
Core myopathy with heart disease
Emery-Dreifuss-like muscular dystrophy phenotype without cardiomyopathy
Limb Girdle Muscular Dystrophy 2J/R10
Tibial muscualr dystrophy
TTN-related heart disorders like cardiomyopathy and
Myofibrullar myopathy (titin related)
Likely more soon to be discovered skeletal muscle conditions
The age of onset and severity for both heart and skeletal muscle disease is variable. Due to the wide spectrum of presentation and its rarity the true incidence of titin-related skeletal muscle disorders is currently unknown.
The rate with which people are diagnosed with these conditions is expected to rise precipitously as research grows, genetic tools improve and policy expands leading to more people diagnosed with a titin-related condition. Even though any single, rare condition like skeletal titinopathy is uncommon, according to the EverLife Foundation, the aggregate of rare diseases in the US constitutes a public health crisis. (2) For each individual with a rare disease like titinopathy it has a significant impact on health, emotional wellbeing and ability to work, play and learn. Team Titin will play a crucial role in supporting impacted families with this condition.
Team Titin serves to unite, connect and educate affected families, scientists and clinicians. We will serve as a catalyst to advance better understanding of the disease process and support efforts leading ultimately to a treatment.
Team titin is a is a tax-exempt private foundation under the Internal Revenue Code Section 501(c)(3) EIN# 88-3758497.
Who we are: Board of Directors: Sarah Foye President/Treasurer, Christine Pappas, Secretary, Patrick Foye, Board member and Stephanie Olson, Board member and Compliance Officer (2023)
Contact Us:
Team Titin, Inc.
PO Box 794, Pine Brook, NJ 07058 (973) 797-9305 Sarah@TeamTitin.org
Partnerships/Memberships: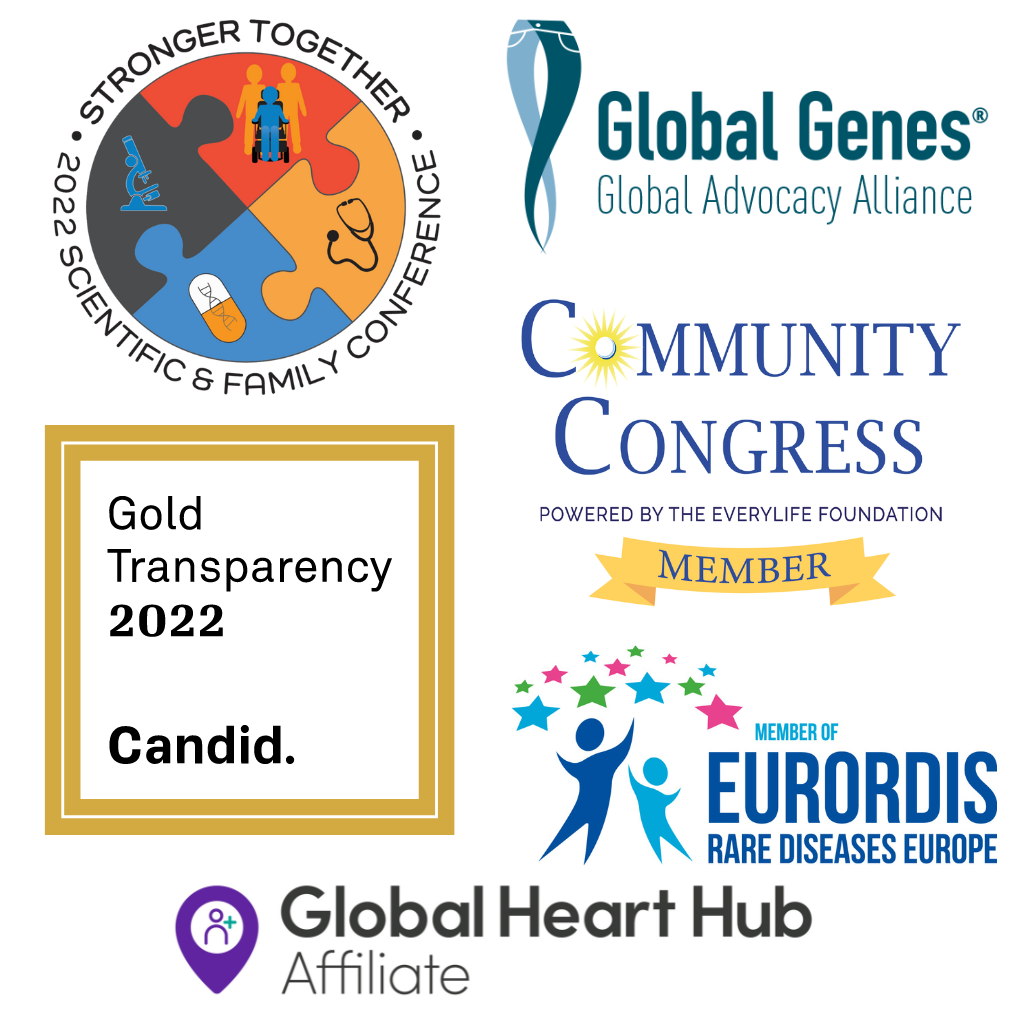 References:
CDC website on Cardiomyopathy https://www.cdc.gov/heartdisease/cardiomyopathy.htm
The EverLife Foundation for Rare Disease 10 year report everylifefoundation.org
Policies: