The year my son got the flu he missed 63 days of school.  He was exhausted for months afterwards.  It was a very difficult time for our family and not one we'd like to go through again.  The flu can make you miss work, school or even be hospitalized. People with muscle disease are at high risk for complications from influenza.
There are 3 main actions to you can take to fight the flu and the spread of germs to others this flu season.
1. Take time to get a flu vaccine.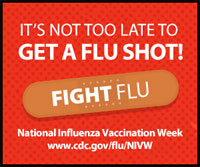 2. Take preventive actions to stop the spread of germs.
3. Take flu antiviral drugs if your doctor prescribes them.
Please ask family and caregivers of people with muscle disease to get vaccinated, it's important!
The CDC recommends that patients at high risk for complications (like those with muscle disease) from influenza and patients with severe, complicated or progressive illness should be treated with antivirals as soon as possible!  This may include getting prescription over the phone.  You can learn more here: Flu Treatment Flowchart.
People with muscle disease may need special interventions to help them manage influenza. This short, 7-minute video helps explain some specific strategies to manage if you or a loved one does get the flu: 3 Tips: How to Get Through Flu Season.
Thank you for learning about the 3 main actions you can do to fight the flu this winter!
Wishing you all the best of health.